High definition liposuction has been coined to identify liposuction results that are "jaw-dropping". "Jaw-dropping" results are appreciated when body contours are transformed in a radical manner with the ultimate goal of achieving a PERFECT 10 body.
High-definition liposuction is considered a "Game Changer" in the body contouring arena as it allows your surgeon to precisely sculpt your body to previously unattainable results.
Two factors are critical to attaining high-definition liposuction results.
The first requires mastery in the use of VASER technology which is unique as it allows comprehensive, yet controlled and uniform removal of ALL layers of fat from your problem areas. Whereas traditional liposuction was limited to removal of only the deep fat, VASER liposuction allows for controlled removal of both the superficial and deep fat in order to create TRANSFORMATIVE results. Mastery requires:
Understanding VASER capacity
Intimate knowledge of muscle anatomy
Appropriate training in VASER application
Surgical experience with VASER technology
An artistic approach to sculpting the body
Strategically sound operative plan
The 2nd critical factor for attaining HDL results is appropriate Patient Selection. Strategic sound planning of your surgery stresses the importance of Patient Selection. High definition liposuction strives to achieve a near PERFECT 9 or 10 body. In order for your surgeon to achieve superior outcomes, he or she must consider both the degree of excess fat as well as the quality of your skin. High Definition Liposuction (HDL) Body Scale has been designed to objectify "Patient Selection" considerations above to guide both surgical plan and to objectify improvements in patient results.
The HDL Body Scale ranges between 2 to 10 points and specifically takes into account excess fat, skin texture, and redundant skin in order to assist in the surgical design intended to achieve High Definition Liposuction results. For example, if you have excellent skin tone and only minimal to moderate fat (HDL Body Scale of 7 to 9 points), then VASER liposuction alone should help you achieve a near-perfect 9 or 10 result.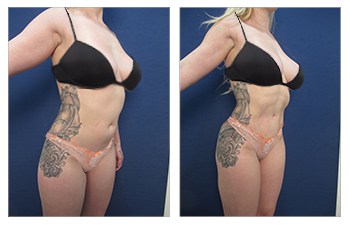 If you have minimal to moderate skin redundancy, then skin tightening may be required. Skin tightening can be performed using minimally invasive modality with the Renuvion subdermal coagulation (HDL Body Scale 6 to 7 points).
If you have moderate to severe skin redundancy, then your surgical plan should consider combining VASER liposuction with a tucking procedure (mini-tummy tuck, reverse tummy tuck, lateral thigh tuck, medial thigh tuck, brachioplasty, or upper body lift). (HDL Body Scale 5 to 6 points).
For patients with severe skin redundancy or poor skin texture, a staged full-body tuck followed by VASER liposuction should be considered (HDL Body Scale of 2 to 5 points).
If you are looking to transform your body because you are unhappy about your appearance, you should consider High Definition Liposuction. Whether you work out regularly or are too busy to get to the gym, VASER liposuction can help you look your best. After VASER high definition liposuction, you will absolutely fall in love with your body and appreciate your complete transformation every time you stare in the mirror!