In order to achieve high definition contouring of the male chest, we utilize a two-step approach during surgery.
First, we strategically remove the breast mammary tissues.
This surgery requires either liposuction or direct excision of the firmer disc of mammary tissue right under the nipple and areola. This firm disc like tissue is actually the male version of the female mammary glands which cannot always be removed with liposuction alone. The second component of chest contouring includes both liposuction and fat transfer of very strategic areas that will create the necessary contour to give a sculpted, high definition, armor plate look that is desired in a male.
Second, to achieve the high definition of the chest wall, we have to take in to consideration a patient's muscular and bony chest anatomy. The major muscle groups include the pectoralis muscle, which creates the bulk of central chest fullness, as well as the latissimus muscle and the serratus anterior muscles. The latissimus muscle creates the most lateral border creating a shield-like border; the latissimus is bordered medially by rib cartilages and smaller interdigitating serratus muscles.
When definition is lost due to weight gain, lack of directed exercise or due to genetics, high definition liposuction chest sculpting, can make dramatic corrections.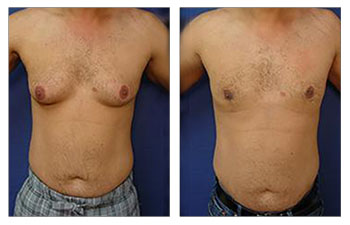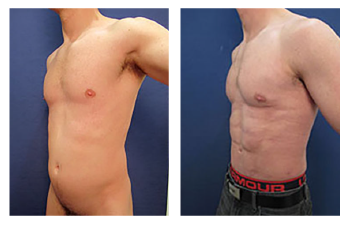 For more in-depth information about this procedure, see this page on  Dr. Laguna.com